This little cleaning raccoon character was requested by Hana for translation. Be sure to check out her San-X blog for news and fun stuff related to our favorite character company!



Kireizukin Seikatsu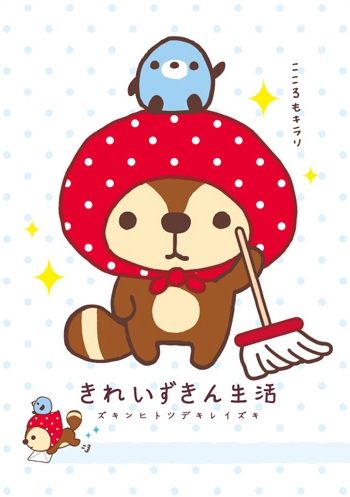 Japanese Name: きれいずきん生活
Literal Translation: Clean Hood Life
Released: February 2009
Original Japanese: WWW

PDF

When the raccoon, Mar,1 who tends to can't be bothered to do anything, puts on the hood, he becomes "Kireizukin"! While being guided by "Mogura Sensei," he has a sparkly life.

めんどくさがりのあらいぐま「まー」がずきんをかぶると「きれいずきん」に早がわり!「もぐら先生」におそわりながらピカピカ生活をおくっています。



Characters

まー

きれいずきん

もぐら先生

ホコリフレンズ

水色ずきん
Mar1
Mar

"Mar" is a raccoon who tends to can't be bothered and neglects things. He spends the majority of the day sleeping.

めんどくさがりで、おうちゃくものな、あらいぐまの「まー」。一日の大半を寝てすごしている。

Kireizukin
Clean Hood

But when he puts on the hood...
He becomes "Kireizukin," who loves to clean, and appears to have a sparkly room, heart, and life. The red hood is almighty!

だけどずきんをかぶると・・・
おそうじ大好きな「きれいずきん」になっておへやもココロもピカピカな生活をおくっているらしい。赤ずきんは万能だよ!

Mogura Sensei
Mole Teacher

He is skillful at cleaning. He is the master for "Kireizukin." He teaches various cleaning tasks, but he is scary when he's mad.

おそうじ上手。「きれいずきん」の師匠的存在。いろんなおそうじのワザをおしえてくれるけど、キレたらこわい。

Hokori Friends
Dust Friends

It appears they exist countlessly in any house. They are good friends with "Mar," who does not wear the hood, but it looks like they are afraid of "Kireizukin"...

どの家にも無数に存在するらしい。ずきんをかぶっていない「まー」とは仲艮しだけど、「きれいずきん」のことはこわいみたい・・・。

Mizuirozukin
Light Blue Hood

Mizuirozukin's specialty is scrubbing!

水色ずきんは拭き掃除が得意!

Images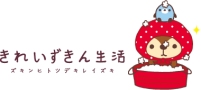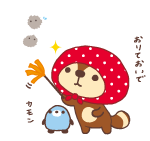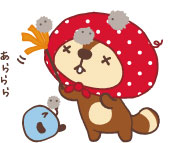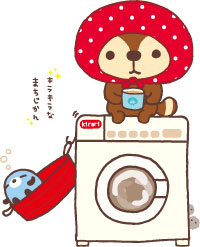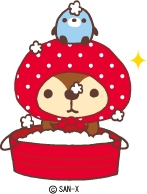 Translation Notes
According to the San-X English version, his name is "Mar":
Irresponsible raccoon "Mar", he is usually lazy but he changes his attitude whenever he wears hood on his head. He rarely cleans up the room before wearing the hood, but after wearing the hood on his head, like personality changes, he become an expert on smarten up and clean up the room, also he can be called "Kireizukin". San-X Net: Kireizukinseikatu.