Another classic San-X pun with the lion of "dandelion." This dandelion lion shows his mood and feelings through his dandelion colored mane! Check out the stickers (first image) for examples of all his moods drawn with the hairs of his mane.


Dande no Kimochi


Japanese Name: ダンデのキモチ
Literal Translation: Dandelion Mood1
Released: July 2011
Original Japanese: WWW

PDF

The lion shows his mood in his dandelion colored mane.

たてがみできもちつたえるたんぽぽいろのライオン。




Images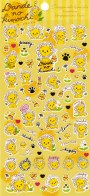 Translation Notes
"Kimochi" means "feeling, sensation, mood" and comes from the heart.