Soreike Otamachan!



For the purpose of the delicious meals, such as curry¹ and hamburgers, loved by everyone, Otamachan does intensive training everyday. With many close friends, everyday is packed fully with fun.

みんなが大好きなカレーやハンバーガーなどおいしい料理になるために日々とっくんしている「お玉ちゃん」。たくさんの仲間たちとくり広げる楽しい毎日が ぎっしり詰まったシリーズです。





Characters
Otamachan
Little Onion

She is single-heartedly genuine but overly sentimental.

じゅんすいでいちず。涙もろいのです。
Papuchan
Little Paprika

They are three paprika siblings full of energy.

げんきいっぱいパプリカ3きょうだい。
Tomappi
Cute Little Tomato

He is a scatterbrain who inspires the others.★ He is brightly colored.

おちょうしもののムードメーカー★あかるくいろどるよ。
Burokko
Broccoli Child

Now she only has a minor role but she makes great effort for prospects of becoming an idol.

いまはわき役だけどアイドルをゆめみてどりょくくてるの。
Jyagarou
Potato Boy

There is some chemistry with Otamachan. They are best friends.

お玉ちゃんとあいしょうバッグン!!だいしんゆうだよ。
Cabbage
Cabbage

It doesn't want to become shredded.

せんぎりになるのだけはイヤだとおもっています。
Applechan
Little Apple

She has a little bit of a shy nature. She is very nervous.

ちょっぴりはずかしがりや。ドキドキしてるの。
Ninsan
Mr. Carrot

Everyone depends on him as an older brother.

たよれるみんなのお兄ちゃんてきそんざい。
Kabuccho
Little Turnip

He has few chances to be a part but everyone encourages him.

でばんはすくないけどみんなをおうえんしてます。
Mamecchi
Little Beans

They are very interested in health. They also check food topics for beans.

けんこうオタク。わだいのしょくひんもマメにチェックしてるよ。
Masshuu
Mushroom

They are food critics called Masshuu Check!!

りょうりひょうろんかマッシューチェック!!
Ruuchan
Little Roux²

Melting yumminess is under investigation!!

とろけるおいしさをけんきゅう中!!
Images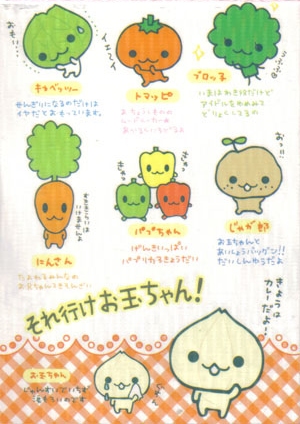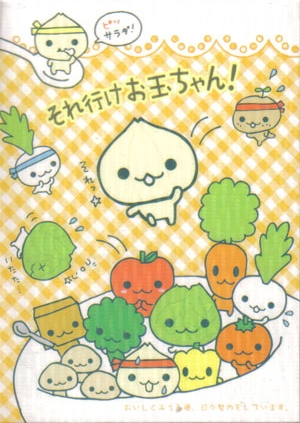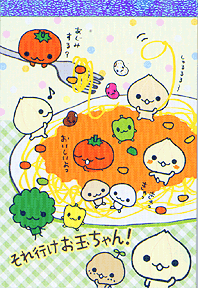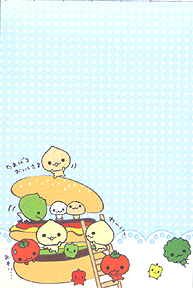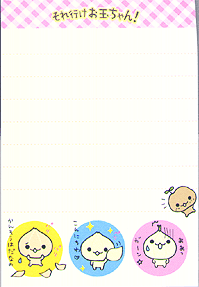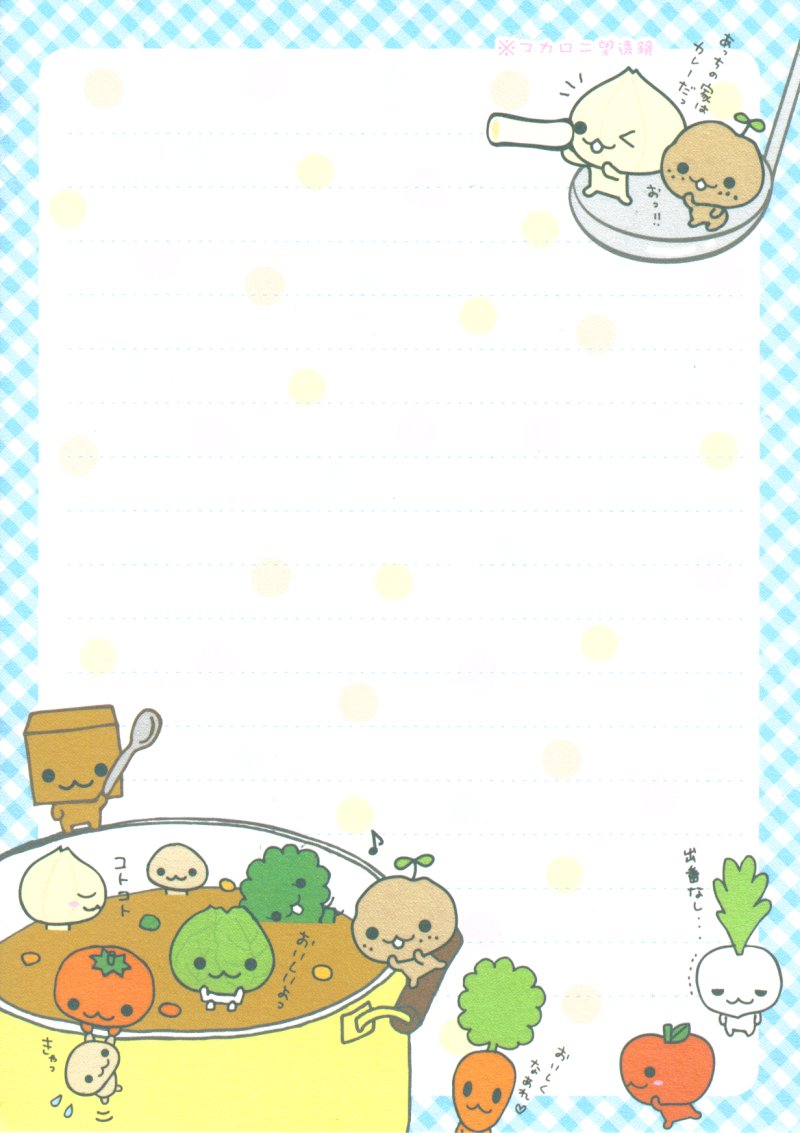 Translation Notes
Curry refers to Japanese curry, which is more sweet than spicy. The main vegetable ingredients are onions, carrots, and potatoes. For the meat, beef, pork, chicken and sometimes duck are the most popular. Japanese curry is not a soup but instead a sort of stew that is eaten on top of rice. Wikipedia: Japanese curry
Curry roux (カレールー) is a ready-made curry sauce mix that look like little brown cubes which are melted with hot water to make the sauce. Wikiepdia: Japanese curry
I've seen that a sort of unoffical English name for Soreike Otamachan! is "Soup Family." However, this is not a translation of the name nor are the characters solely about soup, which actually isn't soup but Japanese curry (as explained above). The vegetable characters not only frequent the curry but also hamburgers, spaghetti, and more!